If you're a proud owner of a metal roof, you know that its durability and sleek appearance are unmatched.
However, when it comes to protecting your home from rainwater, you need gutters that are not only functional but also compatible with your metal roof.
According to the bridgersteel.com, The primary purpose of gutters is to collect rainwater from the roof and direct it away from the structure, preventing water damage, leaks, and various other potential issues to both the roof and the overall building structure.
In this guide, we'll walk you through the best gutters for metal roof to ensure your home remains dry and in top-notch condition.
Are You in a Hurry? Check Out the Best Gutters For Metal Roof!
Are you short on time? Discover the ultimate solution for your metal roof gutter needs!
We present the Stainless Steel Micro-Mesh Raptor Gutter Guard – a top-notch choice designed to save you time and hassle.
With its contractor-grade stainless steel micro-mesh, this guard ensures debris-free gutters and efficient water flow.
Buying Guide: Choosing the Best Gutters for a Metal Roof
Here's a comprehensive buying guide to help you choose the best gutters for your metal roof:
Material: When selecting gutters for a metal roof, consider the material that the gutters are made of. The two most common gutter materials are aluminum and steel:
Aluminum: Lightweight, rust-resistant, and suitable for all climates. Aluminum gutters are less likely to corrode when in contact with a metal roof.
Steel: Durable and strong, steel gutters are ideal for areas with heavy snowfall or potential impact from falling debris. Opt for galvanized or stainless steel to minimize rusting.
Size and Capacity: Gutter sizing is crucial for effective water management. Choose gutters that are appropriate for the size of your metal roof and the average rainfall in your region. Common sizes include 5-inch and 6-inch gutters, with larger sizes offering greater capacity for water runoff.
Style: Select a gutter style that complements your home's aesthetics and the design of your metal roof. There are various gutter profiles available, such as K-style (ogee) and half-round, each with its unique visual appeal.
Gutter Guards and Screens: To prevent debris buildup and clogs that can hinder water flow, consider installing gutter guards or screens. These accessories help keep leaves, twigs, and other debris out of your gutters, reducing maintenance needs.
Durability: Since metal roofs can shed water rapidly, gutters should be durable enough to withstand the force of heavy water flow. Look for gutters with reinforced seams, strong hangers, and durable coatings that resist corrosion and fading over time.
Installation: Choose gutters that are easy to install or consider hiring a professional to ensure proper installation. Gutter systems with snap-on components or DIY-friendly features can save time and money.
Maintenance: Regular gutter maintenance is essential to prevent clogs and ensure optimal water flow. Consider gutters with easy-to-clean designs or invest in self-cleaning systems to minimize maintenance requirements.
Climate Considerations: The climate of your region can influence your gutter choice. In areas with heavy rainfall, choose gutters with larger capacities to handle the water flow. In snowy regions, opt for durable gutters that can handle the weight of ice and snow accumulation.
Warranty: Check the manufacturer's warranty on the gutters you're considering. A longer warranty period is often an indicator of the manufacturer's confidence in their product's quality and durability.
Budget: While it's important to invest in quality gutters, consider your budget as well. Compare prices and features of different gutter options to find the best balance between quality and affordability.
Professional Consultation: If you're unsure about the best gutter choice for your metal roof, don't hesitate to consult with a roofing professional or contractor. They can provide valuable insights based on your specific roof type, climate, and local considerations.
By considering these factors and doing thorough research, you'll be well-equipped to choose the best gutters for your metal roof that provide optimal water management and protection for your home.
Top 6 Best Gutters For Metal Roof of 2023 – Reviews
1. A-M Gutter Guard – Aluminum 6″ (200 Feet, Mill Finish)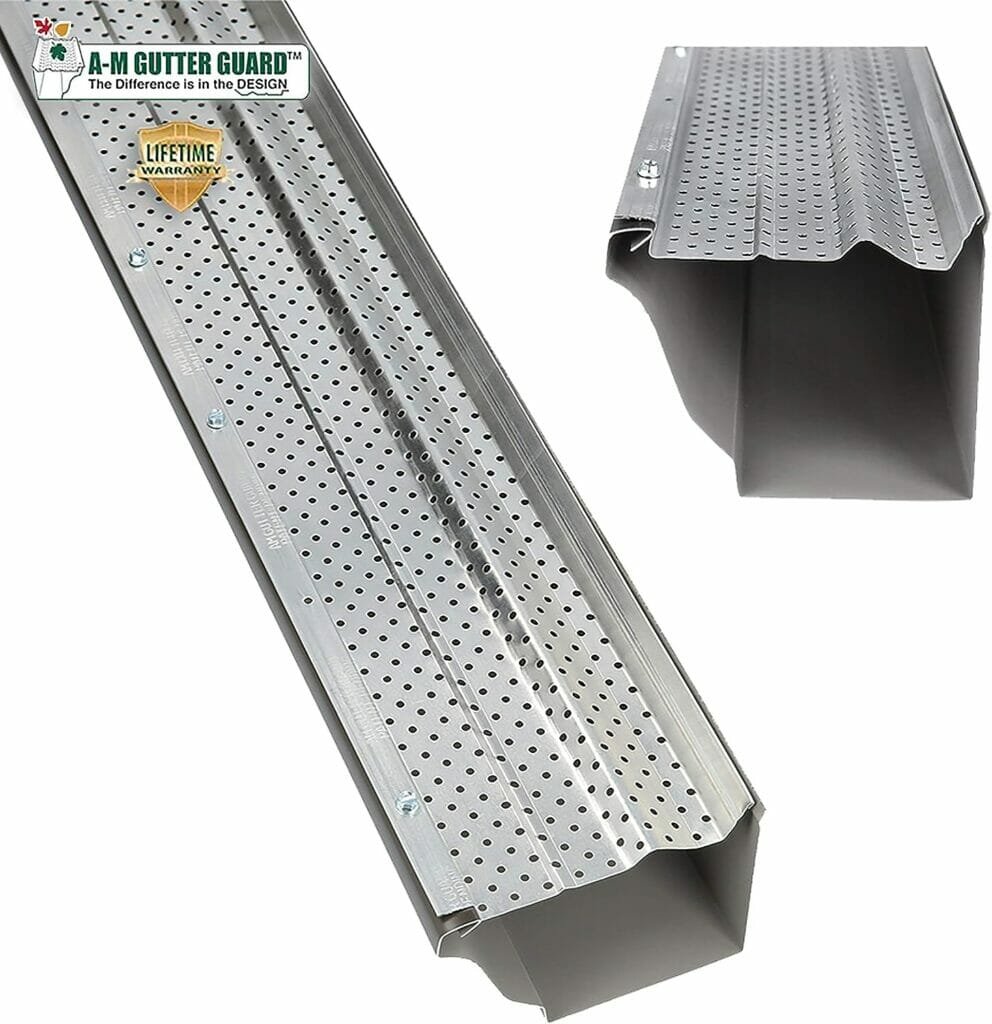 A-M Gutter Guard – Aluminum 6″ (200 Feet, Mill Finish)
The Difference is In the Design. Heavy (Industrial) Gauge .
Designed specifically for hidden hangars but works with all hangars including K-style hangars
Designed to handle downpours with 380 – 1/8″ diameter holes per linear foot
The A-M Gutter Guard offers an exceptional solution for metal roofs, ensuring both functionality and visual appeal.
Crafted from high-quality aluminum, this 6″ guard spans an impressive 200 feet, providing extensive coverage to safeguard your gutters from debris and clogs.
The sleek mill finish not only enhances its durability but also adds a touch of elegance to your gutter system.
Designed with compatibility for metal roofs in mind, the A-M Gutter Guard is an investment in long-term gutter protection that seamlessly blends with the aesthetics of your home.
Pros:
Durable aluminum construction specifically tailored for metal roofs.
Generous 200-feet length ensures comprehensive coverage for your gutters.
Mill finish contributes to both resilience and an attractive appearance.
Cons:
Installation might require professional assistance for optimal results.
2. LeafFilter Gutter Guard Protection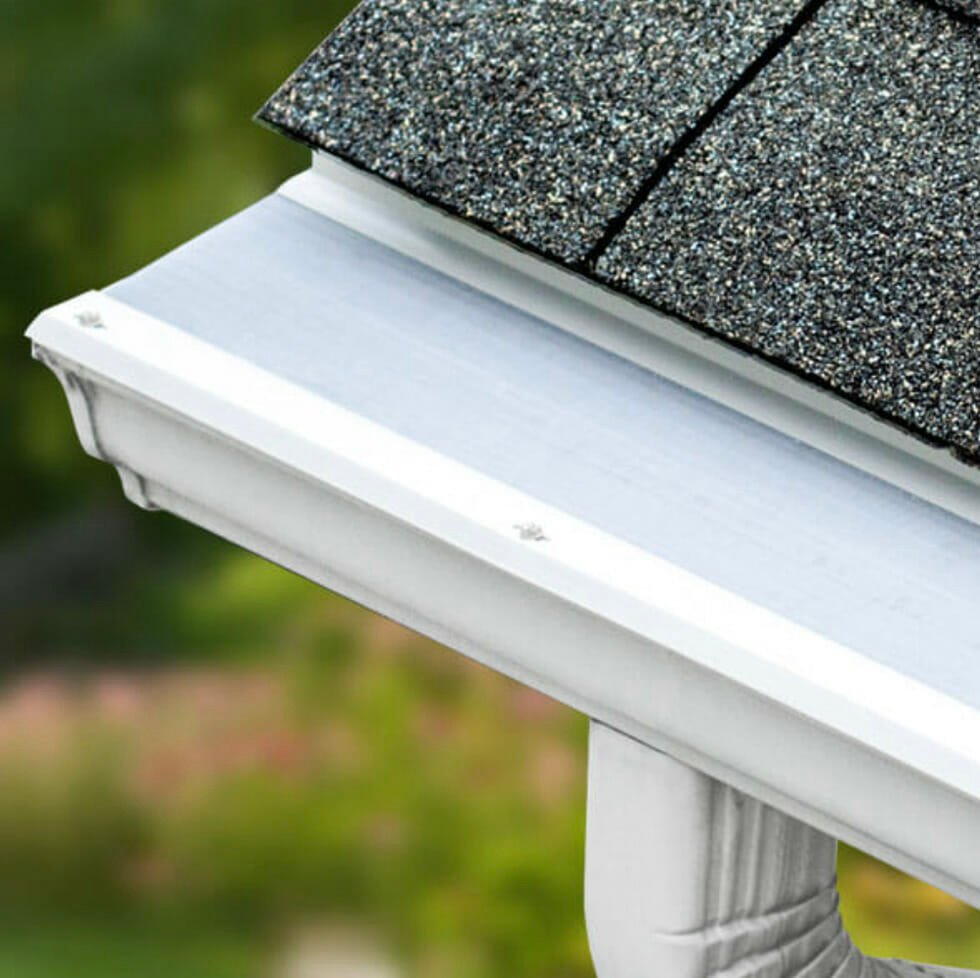 LeafFilter Gutter Guard Protection
GH Home Renovation Award winner Pro
Keeps both small and large debris out of gutter Pro
Stainless-steel framework is strong and stable
LeafFilter Gutter Guard Protection stands as an ideal solution for various roofing materials, including metal roofs.
Leveraging advanced micro-mesh technology, these guards offer a robust defense against debris infiltration while maintaining a steady water flow.
Whether you're dealing with leaves, pine needles, or even smaller particles, the micro-mesh effectively prevents clogs, ensuring your gutters remain clear and functional throughout the year.
Pros:
Micro-mesh technology excels in blocking even the tiniest debris.
Designed to accommodate different roofing materials, including metal.
Ensures consistent water flow, reducing the need for frequent maintenance.
Cons:
Proper installation may necessitate professional expertise to achieve precise fitting.
3. Stainless Steel Micro-Mesh, Raptor Gutter Guard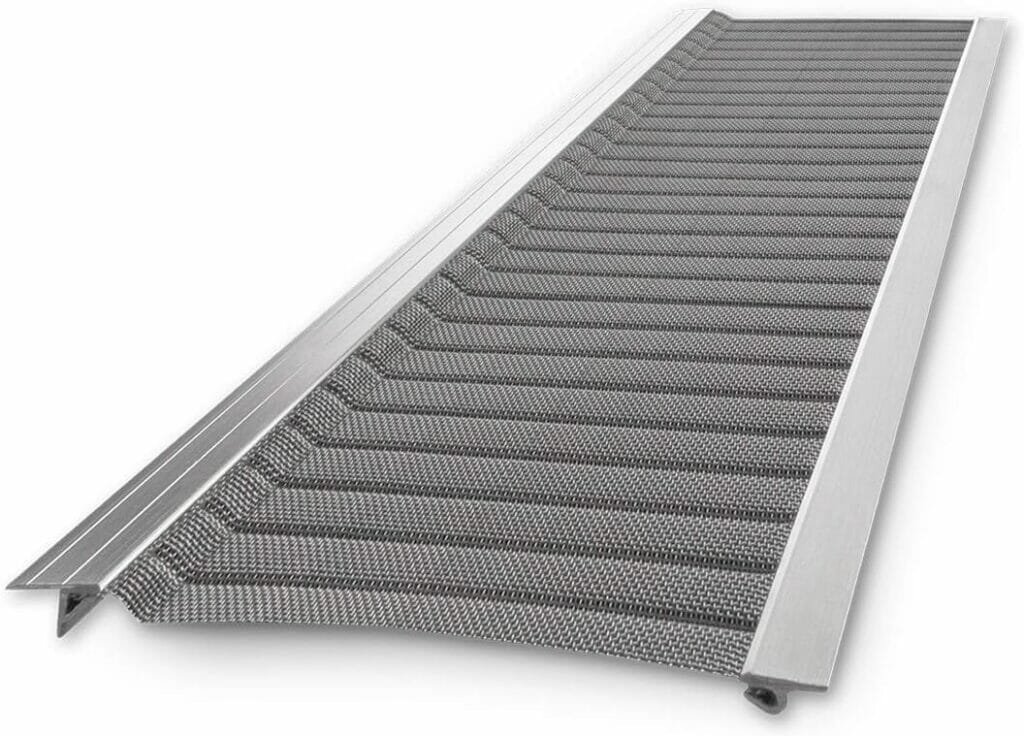 Stainless Steel Micro-Mesh, Raptor Gutter Guard: A Contractor-Grade DIY Gutter Cover That fits Any roof or Gutter type-48ft to a Box and fits a 5″ Gutter.
Stainless steel micro-mesh blocks leaves
Heavy-duty materials withstand all the elements and will never rust or warp.
Easy to install on any 5″ wide or smaller gutter and won't void your roof warranty.
Introducing the Stainless Steel Micro-Mesh Raptor Gutter Guard – a premier choice for those seeking contractor-grade performance on metal roofs.
Boasting an ultra-fine mesh made from robust stainless steel, this solution offers unparalleled debris-blocking capabilities while facilitating efficient water drainage.
With a 48-foot length tailored for 5″ gutters, it guarantees a snug fit for various gutter types and is particularly well-suited for metal roofs where maintaining optimal water flow and preventing clogs is of paramount importance.
Pros:
Contractor-grade stainless steel micro-mesh ensures durability and efficiency.
Versatile design fits different roof and gutter configurations, including metal.
Effectively filters out debris, promoting unobstructed water flow.
Cons:
Careful installation is crucial to achieve proper alignment and functionality.
4. Amerimax Home Products 636025 Lock-In Gutter Guard
Amerimax Home Products 636025 Lock-In Gutter Guard, Black, 25 Count (Pack of 1)
Compatible with 4″, 5″, and 6″ metal (steel or aluminum)
The tight expanded metal mesh pattern keeps out most debris
Constructed of durable powder-coated steel for long life
Elevate your gutter protection with the Amerimax Home Products 636025 Lock-In Gutter Guard, a reliable option compatible with metal roofs.
These guards, featuring a sleek black design, securely lock into place, thwarting debris buildup and promoting the seamless flow of rainwater.
Catering to various gutter styles, including metal, these guards strike a balance between practicality and aesthetics, making them an effective solution for safeguarding your gutters and enhancing your home's exterior.
Pros:
Lock-in design guarantees a secure and stable fit within the gutter system.
Efficiently prevents accumulation of debris, leaves, and branches.
Well-suited for use with metal roofs and diverse gutter profiles.
Cons:
May have limitations in blocking extremely small debris due to the design.
5. Frost King Plastic Gutter Guard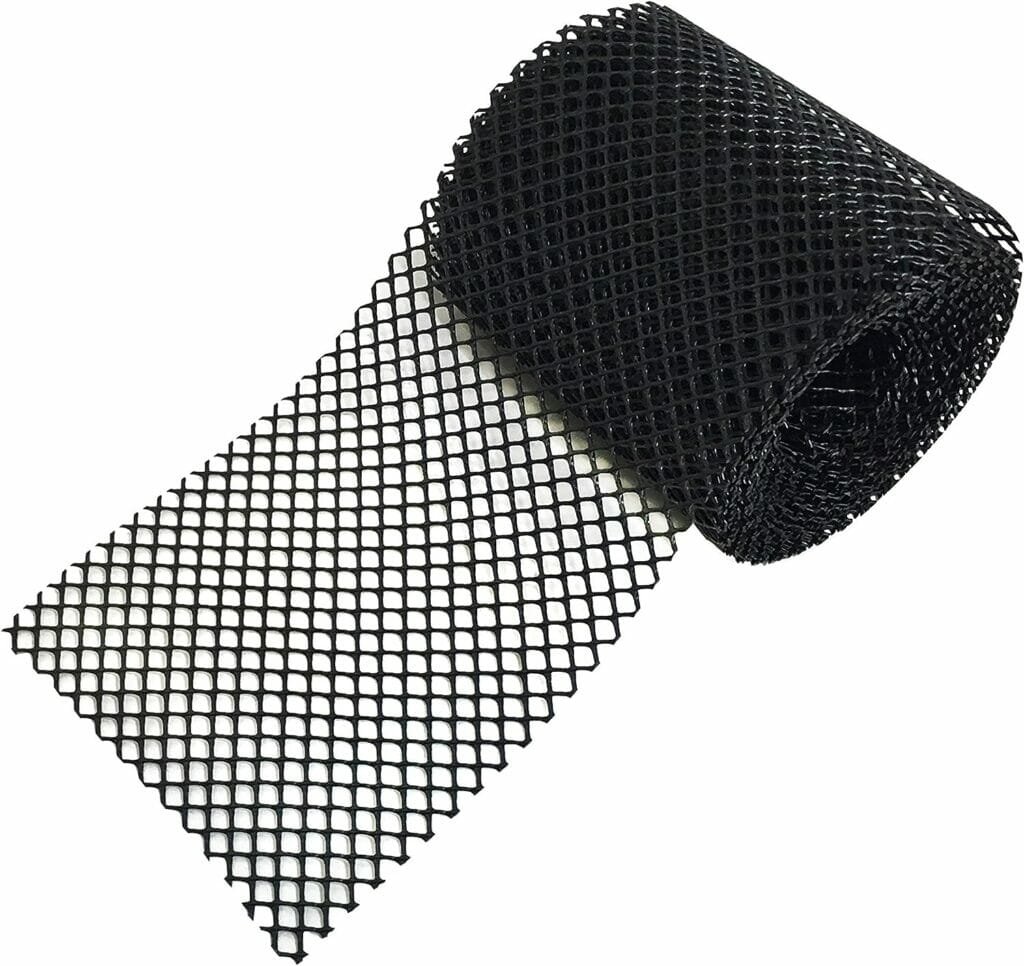 Frost King VX620 6″x20′ Plastic Gutter Guard
Keeps leaves and debris from clogging gutters
Will not rust or corrode
Cut to length with a Pair of ordinary scissors and quickly installed
6″ x 0.185″ x 20 Feet in Length flexible plastic mesh Gutter guard
Discover the cost-effective protection of the Frost King Plastic Gutter Guard, tailored to suit metal roofs.
Crafted from durable plastic, these guards effectively deter leaves and debris from obstructing your gutters, ensuring rainwater flows freely.
While prioritizing functionality, they provide an affordable solution for maintaining your gutter system's efficiency, especially in regions prone to heavy foliage.
Pros:
Affordable plastic construction offers a budget-friendly option.
Successfully prevents leaves and debris from clogging gutters.
Designed for compatibility with metal roofs, providing reliable protection.
Cons:
May have a shorter lifespan compared to guards made from other materials.
Read More:
6. GutterBrush Gutter Insert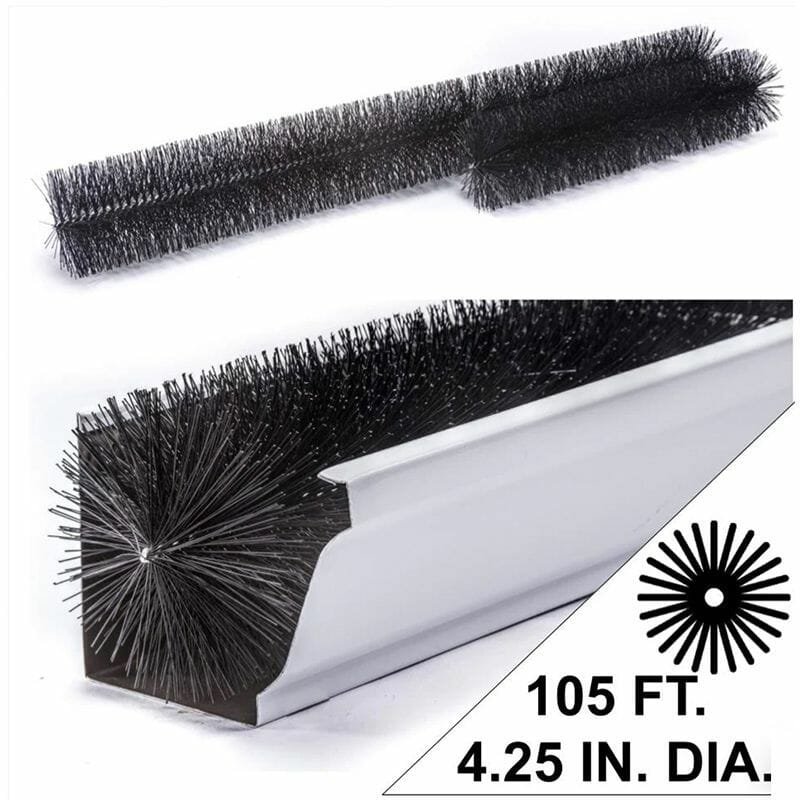 GutterBrush Gutter Insert
Easy to install
Prevents birds from building nests in gutters
Simplify your gutter maintenance with the innovative GutterBrush Gutter Insert, a distinctive choice for metal roof configurations.
This DIY-friendly solution features a bristle-covered design that enables easy installation while effectively capturing larger debris like leaves and twigs.
Suitable for metal roofs, the GutterBrush Insert ensures that water flows through the bristles while deterring debris buildup, reducing the need for frequent gutter cleaning.
Pros:
DIY installation is hassle-free, thanks to the bristle-covered design.
Engineered for compatibility with metal roofs, catering to specific needs.
Effectively captures and prevents larger debris from clogging gutters.
Cons:
May be less efficient in deterring finer debris like shingle grit.
Conclusion
Choosing the best gutters for your metal roof is a decision that affects your home's protection and appearance.
From selecting the right material and style to proper installation and maintenance, every step contributes to a dry and beautiful home exterior.
FAQs: Best Gutters For Metal Roof
Are seamless aluminum gutters more resistant to rust than traditional sectional gutters?
Yes, seamless aluminum gutters have fewer seams where rust can develop, making them more resistant to rust over time.
Can I paint my gutters to match the color of my metal roof?
While some gutters come pre-painted, you can usually paint them to match your roof. Consult the manufacturer's guidelines for the best paint to use.
Do copper gutters require special maintenance to retain their patina?
Copper gutters develop a patina naturally, adding to their charm. To maintain it, avoid applying chemicals that could strip away the patina.
How often should I clean my gutters to prevent clogging?
Cleaning your gutters at least twice a year, before heavy rainy seasons, is recommended. More frequent cleaning might be necessary if you have overhanging trees.
Can I install gutter guards myself, or is professional installation necessary?
While some gutter guards are designed for DIY installation, it's often best to have professionals install them to ensure proper fit and functionality.